President Brou Accredits Envoys of France, Brazil and Sierra Leone to ECOWAS
10 Oct, 2019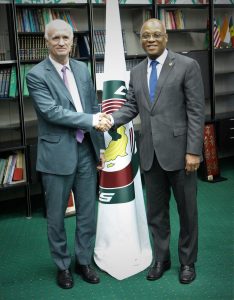 The President of the Commission of Economic Community of West African States (ECOWAS) H.E. Jean-Claude Kassi Brou has received letters of credence from three Ambassadors to be accredited to ECOWAS in Abuja on the 9th of October 2019 at the ECOWAS Headquarters in Abuja, Nigeria.
They include Ambassador of France to the Federal Republic of Nigeria, H.E Jerome Pasquier, the Ambassador of Brazil to the Federal Republic of Nigeria, H.E Richardo Guerra de Araujo as well as the High Commissioner of Sierra Leone to the Federal Republic of Nigeria H.E Solomon Momoh Gembeh, who were all accredited to ECOWAS.
President Brou conferred with all three envoys shortly after presenting to them their letters of acceptance in reciprocity.
Specifically, President Brou assured the accredited envoys of the continuous cooperation of the ECOWAS Commission as they seek to deepen political and economic relations with the regional community.
Areas of mutual interests were also discussed on economic cooperation, capacity building and training, enhancement of intra-regional trade, collaboration to combat the threat of terrorism as well as the building of critical infrastructure.
                                     …. END ….
For more information, please contact:
Directorate of Communication, ECOWAS Commission
Phone: +234 8102507938
Email: soulate@ecowas.int
Twitter:  @ecowas_cedeao
Facebook: Ecowas_Cedeao
www.ecowas.int